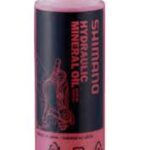 Shimano Mineral Oil Brake Fluid – 100ml
KSh2,000.00
The mineral oil by Shimano – nothing beats the original
Shimano mineral oil is a suitable brake fluid for all Shimano hydraulic disc brakes, whether MTB, Road, Gravel or Touring. Since it does not bind water, mineral oil has the advantage over DOT of longer constant quality – you do not have to replace it as often. When servicing the brakes, please ensure that no oil gets onto the brake rotors.
Specifications:
Designation: Hydraulic mineral oil
Application: brake fluid
Compatibility:
– hydraulic disc brakes from Shimano
Hazardous Substance:


Signal Word: Danger
Hazardous Components:
Distillates (petroleum), hydrotreated light paraffinic; base oil – unspecified; distillates (petroleum), solvent-dewaxed heavy paraffinic; base oil – unspecified
Hazard Warnings:
H304 May be fatal if swallowed and enters airways.
H412 Harmful to aquatic life with long lasting effects.
Safety Information:
P102 Keep out of reach of children.
P273 Avoid release to the environment.
P301+ P301+P311 IF SWALLOWED: Call the POISON INFORMATION CENTRE OR DOCTOR IMMEDIATELY. Do not induce vomiting.
P405 Store locked up.
P501 Dispose of contents and container to authorized waste disposal facility.